Jun 03, 2023 / Village Voice Posted by: Kristian Partington
Their passions are wide and varied. From motorcycles and magic to social justice and neuroscience.  
As Schlegel Villages marked the beginning of Seniors Month, the Village at University Gates was focused on the wisdom, experience and passion our oldest generations offer the world around them. All along the Village's Main Street, a series of 29 exquisite photos highlighted the passion that guides some of the residents of Schlegel Villages.
This was the first of a series of events across the province that celebrates the incredible stories and wisdom of residents who call a Schlegel Village home, but it is much more than that. It is an opportunity to combat ageism, challenge stereotypes, and create a more inclusive society that values and cherishes the experiences and contributions of our elders. 
As Ron Schlegel, the founder of Schlegel Villages, addressed the large crowd gathered in the Village's Town Square, he spoke of his passion for community building and creating space where neighbours and friends converge and foster the relationships that keep a society strong. He also spoke of the responsibility older adults have to share their wisdom and recognize the role they have in inspiring the next generations.
"Every one of us has a unique story," Ron said, addressing the residents of University Gates and, indeed, all the seniors of our communities. "There's wisdom in every story and we need to get out there and share it."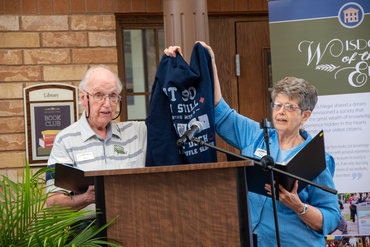 Emily and Bob Leland live at University Gates. From their suite upon the 8th Floor, they look northward to the Laurel Creek Conservation Area, and they spoke of their passion for the outdoors. They spoke of their passion for ongoing education in history, geology, theology, and music.  
They spoke of their passion for each other.
In each of the 29 displays in this unique gallery, which will travel to four other locations throughout the month, we see individual beauty and dedication honed over lifetime upon lifetime.
We see passion, wisdom, and strength, and all our older generations can offer the world around us.
Here are the upcoming events:
June 8th at The Village of Taunton Mills, Whitby
Doors open at 2:00 pm, formal agenda at 3:00 pm
June 14th at The Village at St. Clair, Windsor
Doors open at 2:30 pm, formal agenda at 4:00 pm
June 21st at The Village of Erin Meadows, Mississauga
Doors open at 2:30 pm, formal agenda at 3:30 pm
June 29th at The Art Gallery of Hamilton
Doors open at 2:00 pm, formal agenda at 4:00 pm
Visit the webpage here for more information.